Invisalign Treatment from Your Experienced North Sydney Dental Team
Invisalign is a high-tech orthodontic treatment system used to straighten crooked or misaligned teeth. The teeth are moved to correct issues like crowding, gappy teeth, rotated teeth, overbites, underbites and more to ultimately achieve your dream smile.
The invisalign system works by using clear, almost invisible, aligners that are changed every one or two weeks for a new set of aligners. Each aligner, one by one, gradually moves your teeth into the ideal position. By your last aligner, your teeth will have moved into the ideal orthodontic position as pre-designed by both you and your invisalign Dentist at North Sydney.
What this means is that you can attain the smile you've always wanted without metal braces. Smile confidently in photos. Never hold back laughter. Speak to people up close without concealing your teeth. The confidence boost can be life changing.
The Importance of Choosing a Preferred Provider
Invisalign is truly one of our favourite treatment services to deliver at North Sydney Dental Practice. We have had years of experience working with patients to successfully straighten their teeth without the need for metal braces. In fact, it has been so rewarding for us to accomplish such a high number of amazing smile transformations that we have dedicated a large portion of our practice to Invisalign and orthodontic straightening with sequential clear aligners.
Our experienced team at North Sydney are dedicated to taking the time to understand exactly how you imagine your dream smile so that it can be realised. You are invited to be part of the orthodontic planning process and visualise the final result before you even begin treatment - an incredibly exciting and motivating experience! Once you get started, the level of support and follow up you can expect to receive from us is first class. The cost of Invisalign will vary depending on the complexity of the treatment.
All of our Invisalign services are inclusive of professional grade teeth whitening (normally valued at $390). This is our gift to you so that you can achieve a dazzling final result.
Interest free payment plans are available to start your Invisalign journey sooner.
How does Invisalign work?
Invisalign works by using a highly sophisticated digital system to analyse your smile and digitally move your teeth into the ideal functional and cosmetic alignment. The impressive technology can allow you to visualise and customise the end results to match your specific desires.
Once the ideal treatment plan is approved, a series of sequential clear aligners are manufactured with precision to fit your teeth. You may be have anywhere between 7 to 40 aligners, depending on your case.
For best results, your Invisalign aligners need to be worn full time, day and night, but can easily be removed for eating your meals and cleaning your teeth. This makes brushing, flossing and maintaining your oral hygiene an easy process throughout your treatment.
Each set of clear aligners places very specific and controlled pressure points on your teeth to move them with astonishing precision. The aligners are changed at regular intervals to gradually shift your teeth into their optimal alignment.
Invisalign is particularly popular because it can do all this and remain virtually undetectable to the naked eye. This is suitable for most adults because they can straighten their teeth with the discretion needed to get on with their professional work or life.
How Long Does Invisalign Take?
Every case is different so the duration and complexity between individuals can vary significantly. Some cases can be as short as 3 months while others can take more than 24 months. Typically, our average cases take about 10-14 months to complete. To see if your teeth are suitable for Invisalign straightening, you can contact our reception to arrange a consultation with one of our experienced Invisalign dentists.
Before and After Results
What kind of results can I expect?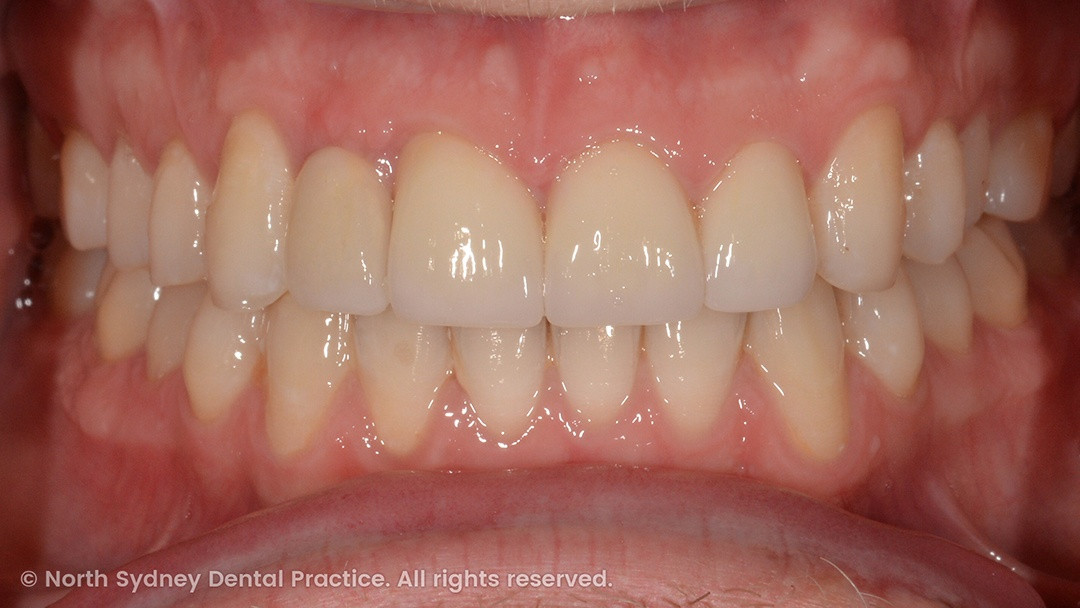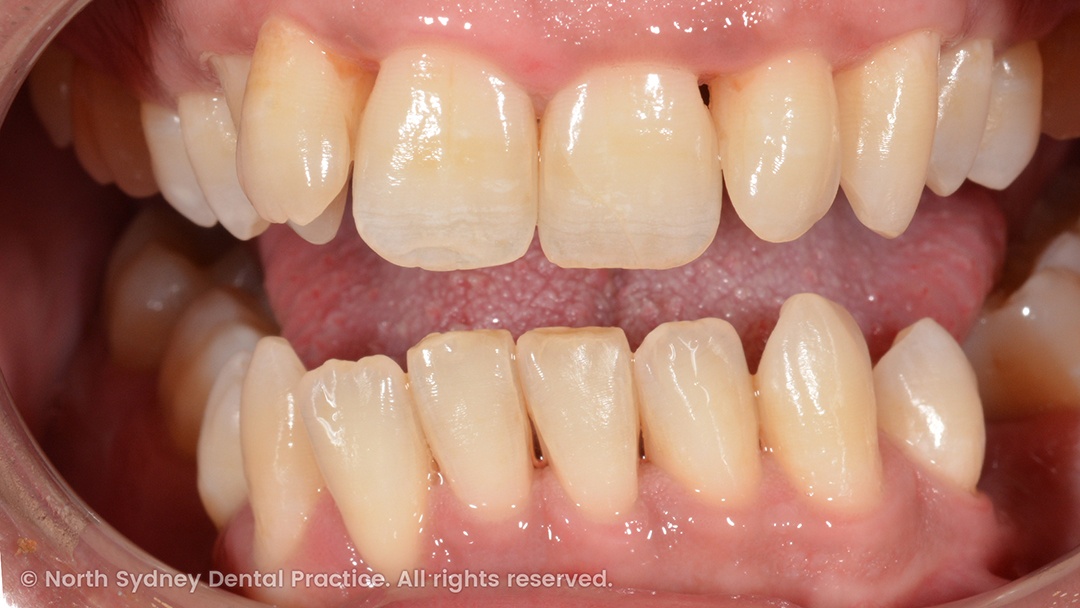 Do the Clear Aligners Hurt?
For the great majority of cases, no. Everytime you change over to a new aligner (every 1-2 weeks) you can expect some pressure or tightness that is necessary to move your teeth. The vast majority of invisalign patients describe a tight sensation for the first 1-2 days of each new aligner with no further discomfort for the rest of the aligner period.
Some people may develop a mouth ulcer at the very beginning as your lips and cheeks make contact with a new material, but once this heals we rarely see a recurrence.
Will Invisalign Work for Everyone?
Invisalign is not always the best treatment option for patients; hence our team at North Sydney Dental Practice will provide you with all the relevant information of all orthodontic options available to you. Some patients may require a more multilayered treatment, which may involve a number of treatments, or perhaps conventional braces may be a more suitable orthodontics treatment to reach a straight smile.
Advantages
Invisalign offers a number of benefits in comparison to traditional braces including:
Aesthetics – because the aligners are nearly invisible, people are less likely to notice that you are straightening your teeth
Eat what you want – with traditional braces it is recommended that you avoid foods such as chewing gum, hard foods and crunchy foods that could potentially damage your brackets and wires. With Invisalign, your aligners can be removed before eating so you can easily eat all of the foods you enjoy.
Hygiene – unlike traditional braces which require additional hygiene considerations, Invisalign can be removed and teeth can be brushed and flossed as per usual.
Comfort – no getting your tongue or soft tissue caught on hard brackets and wires. The aligners are made of a smooth molded plastic material which causes minimal interference in your mouth.
Disadvantages
While Invisalign is an excellent orthodontic option for many patients, there are potential drawbacks to the treatment including:
Extra responsibility – during your Invisalign treatment, it is up to you to ensure that you follow the treatment course as given by your dentist. The results are dependent on being disciplined to wear your aligners with strict adherence to the plan
Inconvenience when eating – your Invisalign aligners must be removed each time you eat. This can be seen as an inconvenience to many people when you are eating several times each day.
Difficulty speaking – some patients find it difficult adjusting to having the aligners in their mouth which may cause a mild lisp during speech. This varies for each patient and most often passes in time as you get used to your aligners over the course of your treatment.
How Long Will My Teeth Stay Straight After the Treatment?
With proper care and by following the guidance of your North Sydney Dental Practice dentist, your Invisalign results can last for a lifetime. It is important to speak with your dentist after your treatment is complete to ensure you have the knowledge and tools necessary to maintain your newly straightened smile for the long term.At North Sydney Dental Practice, we understand that having a retainer to hold the final position of your teeth is crucial for maintaining the results for life. As with any orthodontic treatment, your teeth may relapse and return to their pre-treatment position without a retainer. Depending on your case, your dentist may suggest a fixed retainer that is bonded to your teeth or a removable retainer to be worn occasionally (typically just at night) to maintain your teeth's new position.